1/13
Christmas-1000 Piece Puzzle
<!==this is to display sku==>
Regular price
$18.99
Sale price
$139.99
Christmas House

Santa & reindeer have landed safely on the snowy roof and the jolly man makes his way to one of three chimneys.
 Checking It Twice
This Santa puzzle makes a great gift or a colorful seasonal decoration. With stockings hung by the fireside and eager eyes looking on, Santa takes time out and reviews his list before his next stop.
Village Christmas Tree
Beneath a brilliant moon, villagers enjoy a gentle snowfall. Carolers stroll the streets, children build snowmen, and a faithful pooch awaits instructions from his master. Gaily wrapped gifts are piled beneath a magnificent Christmas tree for the enjoyment of all.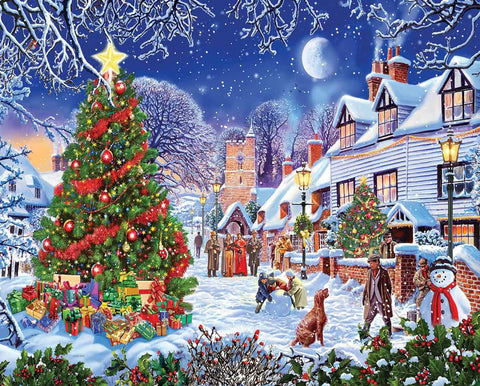 Christmas Traditions
This limited edition puzzle features a nostalgic look at Christmas traditions of the 1950s. Scenes include caroling, baking cookies, driving out to the country to get a tree, and visiting Santa at the store. 
Quick and effective jigsaw puzzle:
First, you should have enough space, a table or a flat floor.
Pour out all the pieces, face up, and sort out the borders as you turn them over (when you have a preliminary impression of where you are in the process of turning them over)
Then begin to take pieces and begin the puzzle according to the pattern.
When you feel the bottleneck, build the frame and sprint. A typical 1,000 piece puzzle takes four to eight hours
(1000 pieces as the basic pieces of the puzzle)
When you finish the whole puzzle, you will have a sense of achievement, right?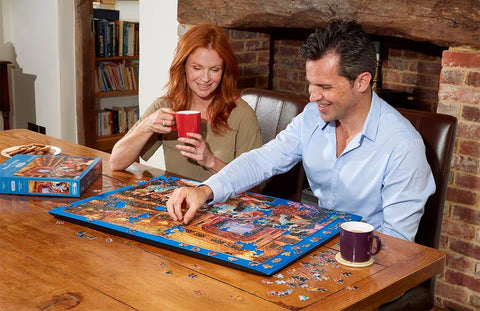 Puzzle size
1000 piece jigsaw puzzle
Finished size is 70 x 50 cm/26.625 x 19.25 inches

Tip: After completing the puzzle, you can make it into a frame and use it as a home decoration. A variety of styles are available. This is a great decoration for walls and tabletops!

Description:


Contains 1000 pieces puzzle .
Entertainment. In case you are looking to supercharge your brain with some good mental games then here is a great game to help you do it. 
Be made of high quality material, non-toxic. Recommend for children age of 8 and up.
Put together jigsaw puzzles. Jigsaw puzzles quiet the mind and induce a state of creative meditation. 
They tap into our creativity and rewire our brains to make "connections" The most valuable parent-child game.
Intellectual game for adults and kids. Good choice for birthdays and various holiday gifts.
---
More from this collection